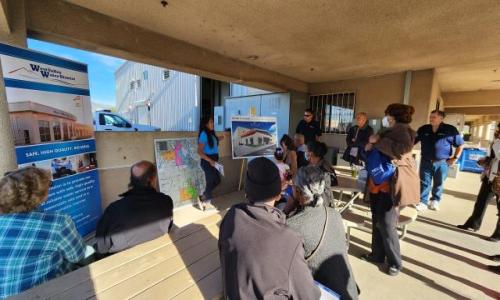 Education

Poster Contest:

West Valley Water District (WVWD) is excited to invite students in our service area to participate in this year's calendar contest!

The theme of this year's contest is "Water Savings Starts with You", a call to action for our young water conservation leaders to illustrate and educate others on how we can all do our part to save water.

To learn more visit:

Scholarship Contest:

West Valley Water District (WVWD) is excited to announce that it will begin accepting submissions for it's first-ever Scholarship Contest on Monday, September 25, 2023. Eligibility requirements must be met.

Essay Contest: One eligible student will be awarded a scholarship in the amount of $1,000.
Video Contest: Two eligible students will be awarded scholarships in the amount of $500.

Deadline to submit: December 29, 2023 11:59 p.m.

To view the full details of the scholarship contest visit www.wvwd.org/scholarships. Questions can be sent to the Public Affairs Department by emailing social@wvwd.org or by calling 909-875-1804.

Inland Solar Challenge:

The mission of the Inland Solar Challenge (ISC) event is to expand the horizon of education through hands-on activities, allowing students to create innovative ideas, while providing a positive forum to implement their problem-solving and creativity skills.

​The ISC gathers high school students from across the Inland Empire to build and race sixteen foot boats equipped with solar technology.

This three day event, held at Yucaipa Regional Park, includes an endurance, slalom and sprint race. In the months before the event, teams must prepare two technical reports and a Public Service Announcement (PSA) about water conservation. Students are also required to present their PSA at the event. The team with the most points overall wins the competition.

Once built, teams take the boats back to their schools where they spend many hours fitting them with the required technology. During this time students fine tune their designs to prepare for competition.

The cost of the event is paid for through local sponsorships. The high schools provide the classroom space to work on the boats, while motivated instructors help the students get the most out of this learning experience.

West Valley Water District is a proud sponsor of Rialto High School.

To learn more about ISC: visit: https://www.inlandsolarchallenge.com

Landscape Workshops

Landscape workshops are offered through out the year for customers. Classes are in English and Spanish, connecting customers with water saving practices and tips.

Upcoming Workshops:

Earth Day

Stay tune for more updates on Earth Day 2024.

West Valley Water District Earth Day Celebration Draws Over 1,000 Attendees

Rialto, Calif. –West Valley Water District (WVWD) celebrated Earth Day with a celebration and open house on Saturday, April 22, drawing over 1,000 local residents, vendors and elected officials to its headquarters in Rialto.

During the free event, attendees visited booths hosted by various WVWD departments to learn about water conservation, the water treatment process and potential careers in the water industry.

"At West Valley Water District, we truly believe that every day is Earth Day, but we were proud to join people worldwide in celebrating our Earth. We're grateful to all of our residents who participated in our event," said WVWD Board President Greg Young. "The goal of our event was to provide a space for education, fun and community gathering. I truly hope that families in the Inland Empire walked away with increased knowledge on how to better protect our planet and our water."

Alongside the WVWD booths, several local agencies, businesses and non-profits also hosted booths and provided community members with additional information and resources. Attendees enjoyed free In-N-Out Burger, live entertainment from local dance groups and a reptile demonstration provided by SoCal Jungle.

Since 1970, Earth Day has united people worldwide —1 billion in 2023—to raise awareness about environmental issues. Earth Day provides WVWD with an additional opportunity to educate Inland Empire community residents and families about water conservation and its work to provide clean and safe water.

"As both a mother and a professional in the water industry, I see a growing need to educate our future generations on protecting and preserving our Earth's most precious resource," said WVWD Division 1 Director Angela Garcia. "It was amazing to see so many young water stewards actively engaged and learning about how to better manage their water use."

WVWD's Earth Day event was funded through the generous contributions of several local organizations, who played an essential role in supporting the event. The sponsors for this year's event included JPMorgan Chase Bank, San Bernardino Valley Municipal Water District, San Manuel Band of Mission Indians, PCL Construction and Therma-Pro Mechanical Services Inc.

Treatment Plant Tours

Due to ongoing construction at the Oliver P. Roemer Treatment Facility, tours have been suspended, until further notice. For questions please call (909) 875-1804 or email social@wvwd.org.
---
Contact Us
Our public affairs department utilizes various government and communications strategies and tools, which includes working with community leaders, holding public meetings, issuing news releases, disseminating newsletters, circulating emails and posting information to social media platforms. The department strives to keep the public informed through public outreach and advocates for ratepayers' interests at the federal, state and local government levels by securing support and funding for critical water-related programs.
To schedule a classroom or community presentation, contact us at social@wvwd.org or 909-875-1804.
---
Working to maintain our goal of advancing transparency and accountability for ratepayers, the public affairs department responds to all media inquiries and public information requests, which must be directed to the Manager of Government and Legislative Affairs Socorro Pantaleon, spantaleon@wvwd.org.