WVWD Celebrates 2023 Poster Contest Winners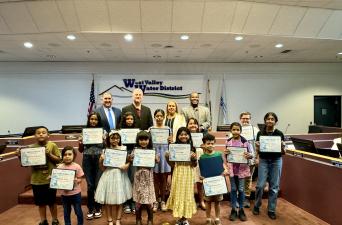 WVWD Celebrates 2023 Poster Contest Winners
Local art contest recognizes local elementary students for focus on water conservation through artistic talent
RIALTO, Calif. – The West Valley Water District (WVWD) Board of Directors is proud to announce the winners of the 2023 Annual Poster Contest, a competition that engages local first through sixth-grade students to learn about and submit a drawing depicting a water conservation theme.
This year's theme, "Water Conservation Starts with You" challenged students to portray what taking responsibility for their water use means to them and how they could make easy changes to their daily habits to save water.
"Congratulations to all the winners. I am truly amazed at the level of talent and thoughtfulness displayed by the winners," said WVWD Board President Greg Young. "Together, we can continue to raise awareness about the significance of water conservation and work towards a sustainable future for generations to come."
The winning students and their teachers were invited to attend WVWD's October 19th Board Meeting where they were recognized for their hard work and praised for their participation as water conservation stewards.
"We are thankful to the schools, teachers and parents who encourage our local youth to participate with us each year and help bring this contest to life," said WVWD General Manager John Thiel. "By fostering an early appreciation for environmental stewardship through a fun educational experience, we are able to inspire and teach our next generation of water leaders the importance of water-wise habits."
WVWD is proud to Announce the 2023 Winners:
Noeliah C, Crestmore Elementary; Keerat N, Sycamore Hills Elementary; Emily E., Flitzgerald Elementary; Sofia E, Paakuma K- 8; Blake M; Sycamore Hills Elementary; Amelie P., Trapp Elementary; Donovan B., Crestmore; Nico R., Crestmore; Gabbonelli G., Crestmore Elementary; Paula L., Trapp Elementary; Avianna O., Crestmore Elementary; Aden D., Paakuma K-8; Sophia C., Trapp Elementary
Annually, 12 drawings are chosen to be featured in the next year's conservation calendar. This year however, 13 drawings were chosen out of over 200 submissions. The 13th drawing will be featured on the front cover of the calendar.
# # #
The West Valley Water District has proudly served the Southern California communities of Bloomington, Colton, Fontana, Rialto, San Bernardino, and Jurupa Valley since 1952. Through name changes and consolidation, the mission has always remained the same: to provide customers with safe, high quality, and reliable water service at a reasonable rate and in a sustainable manner. The District provides water for about 98,000 customers and is overseen by a five-member, publicly elected Board of Directors.