WVWD Celebrates Water Professionals Appreciation Week October 7-15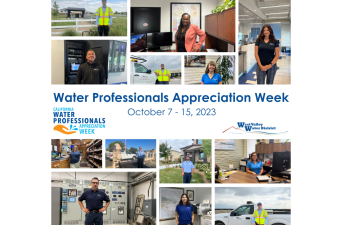 WVWD Celebrates Water Professionals Appreciation Week October 7-15
Water District highlights important role of water industry professionals
In recognition of Water Professionals Appreciation Week, West Valley Water District (WVWD) will recognize the essential service that water professionals and water agencies provide to the communities they serve.
Throughout the week, WVWD will highlight staff, promote the essential roles that water professionals play in their communities and feature available jobs at the District on its social media platforms and website.
"This week offers us an opportunity to honor the men and women who play a crucial role in maintaining our water infrastructure, responsibly managing our water resources, and ensuring that our customers receive safe. high quality, and reliable water every time they turn on the tap," said WVWD Board President Greg Young. "Today and every day we thank them for their service and unwavering commitment to the communities they serve."
WVWD is proud of its high-performance workforce – over 80 employees who serve in a variety of roles throughout the District, each working diligently to treat, distribute and manage water resources.
"Water is essential to our daily lives. When we turn on the tap to brush our teeth or wash our dishes, it is the work of these incredible individuals that make it possible," said WVWD Director Angela Garcia. "These professionals play a vital role in safeguarding our communities and families."
Water Professionals Appreciation Week was established in 2017 after Senate Concurrent Resolution (SCR) 80 was passed by the Legislature to recognize the work of water industry professionals. It is celebrated every year beginning on the first Saturday of October and ends on the following Sunday.
To follow along with the celebration, follow WVWD on Instagram, Facebook and Twitter and use the hashtag #ThankWaterPros.