WVWD Earns 12th Consecutive Financial Reporting Award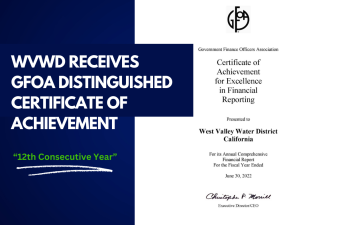 WVWD Earns 12th Consecutive Financial Reporting Award
Government Finance Officers Association presents West Valley Water District with Certificate of Achievement
West Valley Water District (WVWD) is proud to announce that is has received the prestigious Certificate of Achievement for Excellence in Financial Reporting from the Government Finance Officers Association (GFOA) for the 12th consecutive year. This recognition underscores WVWD's commitment to transparent financial reporting and responsible fiscal management.
This distinction is awarded to government agencies who have submitted an Annual Comprehensive Financial Report going above the minimum requirements of generally accepted accounting principles to prepare a financial report that is clear and concise, and created with the spirit of full transparency and disclosure.
"Time and time again, our finance team has shown themselves to be responsible stewards of our District funds," said WVWD Board President Greg Young. "This award demonstrates WVWD's transparency, accountability, and commitment to providing accurate and reliable information to our customers. This recognition is a testament to the dedication and professionalism of the WVWD finance team."
West Valley Water District was recently awarded the GFOA's most prestigious award, The Triple Crown. The Triple Crown recognizes governments that have received GFOA's Certificate of Achievement for Excellence in Financial Reporting, Popular Annual Financial Reporting Award, and the Distinguished Budget Presentation Award in the same fiscal year.
"We are honored to be recognized by the Government Finance Officers Association," said WVWD CFO William Fox. "It is a great honor to work besides a team who takes pride in effectively communicating the District's financial story and who continues to hold ourselves to the highest standards of accountability and transparency."
The GFOA represents over 21,000 members of federal, state and local finance officials to implement thousands of governmental operations and advance excellence in public finance.
To view the WVWD's award-winning documents or other reports, please visit www.wvwd.org/transparency.